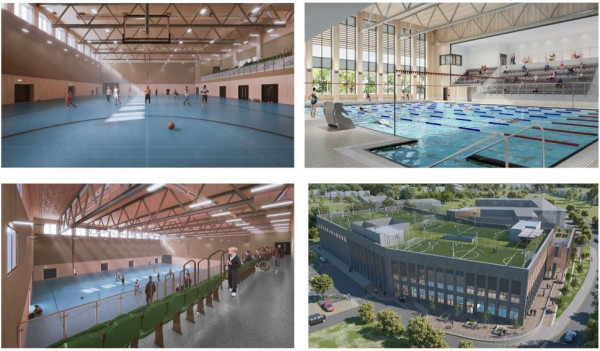 Places Leisure announced as new Leisure Centre provider
Spelthorne Borough Council is pleased to announce that Places Leisure has been awarded the contract to manage the new Spelthorne Leisure Centre and the existing Sunbury Leisure Centre for the next 10 years.
The company was appointed by the Council following a competitive tender process as part of a major investment in the Borough's leisure facilities with the construction of the new multi-million-pound Spelthorne Leisure Centre. Places Leisure will take over the management of both centres next year when the new centre opens.
Places Leisure is part of Places for People, one of the UK's leading social enterprises, and welcomes over 30 million members annually to its 100 health and wellbeing facilities across the country. As a social enterprise, the company's profits are reinvested back into its core business of creating and maintaining thriving communities and driving social value. As well as operating the centres, Places Leisure will be delivering an extensive outreach programme, taking wellbeing activity to reach residents in all areas of the Borough.
Cllr Sue Doran, Chair of Spelthorne Borough Council's Community Wellbeing Committee, said: "Places Leisure have a fantastic track-record of working with residents and local authorities to provide excellent sport, leisure and fitness facilities. We have been impressed by their passion for getting people from all sections and ages of the community engaged in active lifestyles and creating fun vibrant centres where residents can enjoy their free time. We very much look forward to working with them.
"I would also like to thank our outgoing contractor, Everyone Active (Sports and Leisure Management), with whom we have worked since 1996, for their commitment to Spelthorne and support of our residents' health and fitness."
Dan Walker, Business Development Director at Places Leisure, said: "We are thrilled and delighted to be awarded this prestigious contract and look forward to welcoming the Sunbury and Spelthorne centres into the wider Places for People family from 2024. Our purpose is to create active places and empower healthy people and working with Spelthorne Borough Council, that is what we will deliver both in the centres and through the work we do out in the local communities; enabling the people who live and work in the Borough, to thrive.
The development of Spelthorne's new Leisure Centre in Staines-upon-Thames is progressing extremely well, with the build remaining on track and just a few months to go until its expected completion in summer 2024. As well as being a modern design with all the latest facilities one would expect, the new leisure centre will be extremely energy efficient as the first full scale leisure centre to be built to the ultra-low energy 'Passivhaus' standard. The Council expects the new centre to use between 60 and 70% less energy than a typical modern leisure centre - a major step in helping the Council achieve its aim of becoming carbon neutral in the coming years. It will also be fully accessible and inclusive for people with physical or cognitive impairments.
You can get the latest updates abuot the new leisure centre at www.spelthorne.gov.uk/newleisurecentre