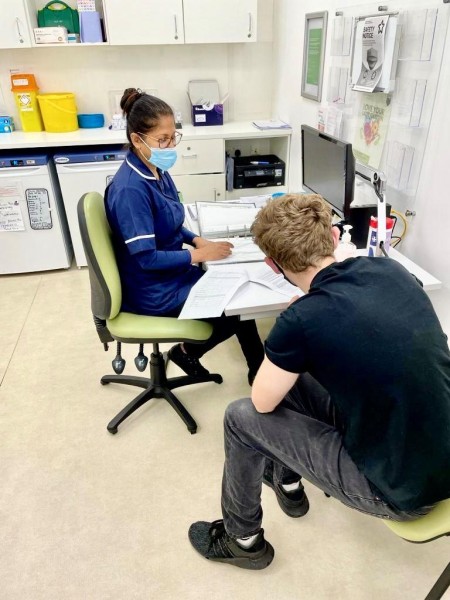 Meet the business - Superdrug
We recently had a chat with Vimala Lefort, Clinical Nurse Advisor at Superdrug, Staines and Louise Gordon, Superdrug's National Nurse Manager. We wanted to find out more about their excellent and popular health clinics. Here is what Vimala and Louise had to say:
What is the story behind opening the health clinic at Superdrug, Staines?
Superdrug has nurse clinics throughout the UK. They decided to expand the service and make it more accessible for people in retail environments and the local community. Staines is a great location in terms of people being close to the airport and popular for travel vaccinations. The clinic started part-time in October 2019 and went full-time in February 2020.
Which has been the most popular of your services since you opened and how does this compare to other similar stores?
Pre Covid-19, it was certainly the travel vaccinations, this was a similar picture across the country as people found it difficult to get appointments for these with their GP practices. Lately, occupational health services, blood tests and, when there are outbreaks locally, chickenpox vaccinations have been popular.
Do you have any plans to expand the range of services offered by the clinic?
We are always looking for new ideas. There is collaboration between the healthcare services team at Head Office and the nurses in the satellite locations. For example, if a lot of ear irrigation has been requested at one location, we may scope out the potential to launch the service. Clinic services offered are readily available to the local and neighbouring community but let us not forget we also have services including the local businesses via Corporate Services. Information is available on our Superdrug website.
What does your day-to-day job role involve?
Vimala: To prepare for the day in the clinic and plan ahead. Conduct safety checks, complete documentation, speak to customers and answer messages, host pre consultation calls. There is also keeping up to date with what is new, communicating with the sales team, the health care team colleagues via Team Messaging, and training.
What is your favourite part of this job?
Vimala: I love the health promotion and care side of the job, helping to provide a service to the community and making a difference, just helping customers to keep healthy and signposting them to relevant services if it is not within the remit of this clinic.
What has been your biggest achievement in the last year?
Vimala: It has been a rollercoaster time fighting Covid-19 with colleagues at Superdrug and the NHS. We were furloughed for a while in lockdown, so I volunteered on a local homeless project. I was proud to be part of a project that was nominated for a community award, also being recognised within Superdrug as going 'above and beyond' in my role.
Which social media channel has benefitted your business the most, and why?
We use Instagram, TikTok and Facebook. TikTok is probably the best for the retail side of our business due to our younger audience, but as a healthcare professional team, we tend to use Facebook and Instagram.
If you had to describe yourself in 3 words, what would they be?
Vimala on herself – Positive, friendly, and caring

Louise on Vimala – Passionate, caring, and professional
What would a perfect day look like for you?
Vimala: From a personal viewpoint, it would be a sun-chilled day at the beach in Mauritius with family and friends. I haven't been able to visit since 2018.
Which superpower would you like to have, and why?
Vimala: To be Bionic Woman with her superpowers!