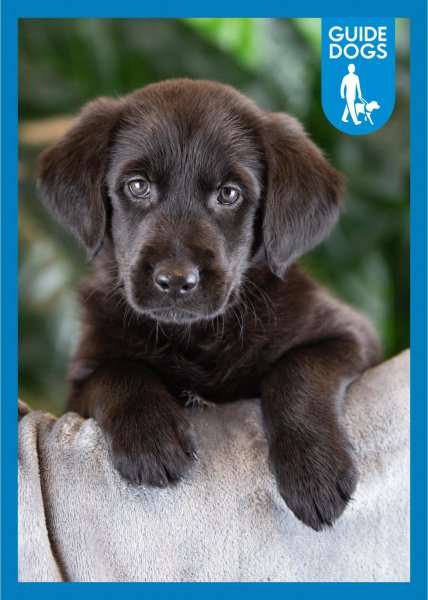 Coco's first Pupdate!
We've had our first Pupdate on Coco, the puppy we sponsored with Guide Dogs, who was born in November 2020. Here is what we were told about Coco:
Coco has been living with her Puppy Raiser, Carole, for a little while now, so we caught up with Carole to find out how things are going.
Many Puppy Raisers have a few sleepless nights when their pup first arrives, as puppies can sometimes be a little unsettled in a new environment. However, Carole told us that they had no such issues, as Coco has slept soundly almost every night since she moved in! This is probably because she feels so comfortable in the cosy puppy crate she sleeps in, but also, she seems to be a very calm pup in general.
One of the first things pups need to master when they move to their new home is toilet training. They are encouraged to respond to the 'busy' toileting prompt, which is taught to all guide dog pups and is designed to encourage 'spending' in appropriate areas. It can take a while for some pups to get the hang of this, but we are pleased to report that Coco is making excellent progress and has only had a few accidents here and there.
Carole has begun introducing Coco to some basic obedience commands, such as 'sit', 'down' and 'stay', and Coco is picking things up really quickly, especially when there is a food treat as a reward! Another important aspect of a guide dog pup's early training is to familiarise them with a variety of different modes of transport, so that later in life they can confidently go anywhere that their owner might need to. Coco has started with car travel, which she appears to be fine with.
Coco is an energetic, confident pup, who enjoys playing with her collection of cuddly toys – although we hear that her favourite things to play with are shoes and slippers! She runs off with them when she thinks no one's looking and hides them in the house! We think that Coco sounds like a wonderful, bright little puppy who has got off to a great start with the early stages of her training.
We look forward to hearing more shortly!