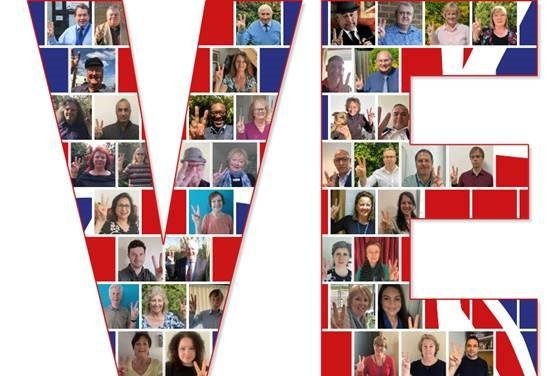 75th Anniversary of VE Day
Friday 8 May marks the 75th anniversary of VE Day and Spelthorne Council are excited to announce their virtual commemoration. To commemorate this important time in our history we are asking you, our residents of Spelthorne Borough, to muster that great war-time community spirit and get involved.
Despite the pandemic, we are sure you will agree that we cannot let this day pass without reflecting on the enormous sacrifice, courage and determination of people from all walks of life who saw us through this dark period. Our virtual tribute will be a celebration of victory – a time to remember, reflect and pay respect to the millions who played such a vital part in achieving it.
Our online gallery will be streamed through the council's social media channels and website, enabling veterans and the community to mark the occasion. We would like to invite residents of Spelthorne to submit images or a five second video of themselves or their family members making the V for Victory salute. The images will be complied in a gallery and may be included in a video as part of the VE Day commemoration. We also ask residents that, if they are in possession of any original photographs or images from VE Day to please submit them by 27 April to be shared in the video.
Cllr Robin Sider BEM, the Borough's Armed Forces Champion said: "I am proud to be part of the Spelthorne family and this initiative to commemorate VE Day 75. I am now asking our community to virtually gather together in a sign of unity to honour those fallen and those who continue to defend our freedom at home and abroad".
Please email your submissions to VEDay75@spelthorne.gov.uk in either JPG or MP4 form. You can also post your images on social media with the hashtags: #VE75 and #Spelthorneremembers.
Supporting the Armed Forces Community including ex-service men and women and their families, the Council are also proud to announce the launch of a new web page /www.spelthorne.gov.uk/afc. The page provides links to a range of sources of help, support and includes information on the council's commitment to the Armed Forces Covenant.
You can also celebrate VE Day 75 safely at home with your family with these additional activities;
Talk to your children about VE Day and what it means
Perhaps the best way to mark VE Day is to educate your children about the Second World War and why 8 May is an important date in British history. The Imperial War Museum has a host of online resources that you can speak to your children about and a wealth of content about VE Day: https://www.iwm.org.uk/history/what-you-need-to-know-about-ve-day
Watch the documentaries
Broadcasters are likely to have documentaries about VE Day and World War Two on their channels that weekend. Encourage your children to watch them to help them gain a better understanding of British history.
Appreciate local history
The Spelthorne Museum (http://www.spelthornemuseum.org.uk/2index2.html) and Sunbury & Shepperton Historical Society (https://www.sslhs.org.uk/) have useful information on their websites.